Since the 2008 housing bubble burst, the word recession strikes a stronger emotional chord than it ever did before. And while there's some debate around whether we're officially in a recession right now, the good news is experts say a recession today would likely be mild and the economy would rebound quickly. Part of that rebound is tied to what has historically happened to mortgage rates during recessions. Here's a look back at rates during previous economic slowdowns to help put your mind at ease.
Mortgage Rates Typically Fall During Recessions
Historical data helps paint the picture of how a recession could impact the cost of financing a home. Looking at recessions in this country going all the way back to 1980, the graph below shows each time the economy slowed down mortgage rates decreased.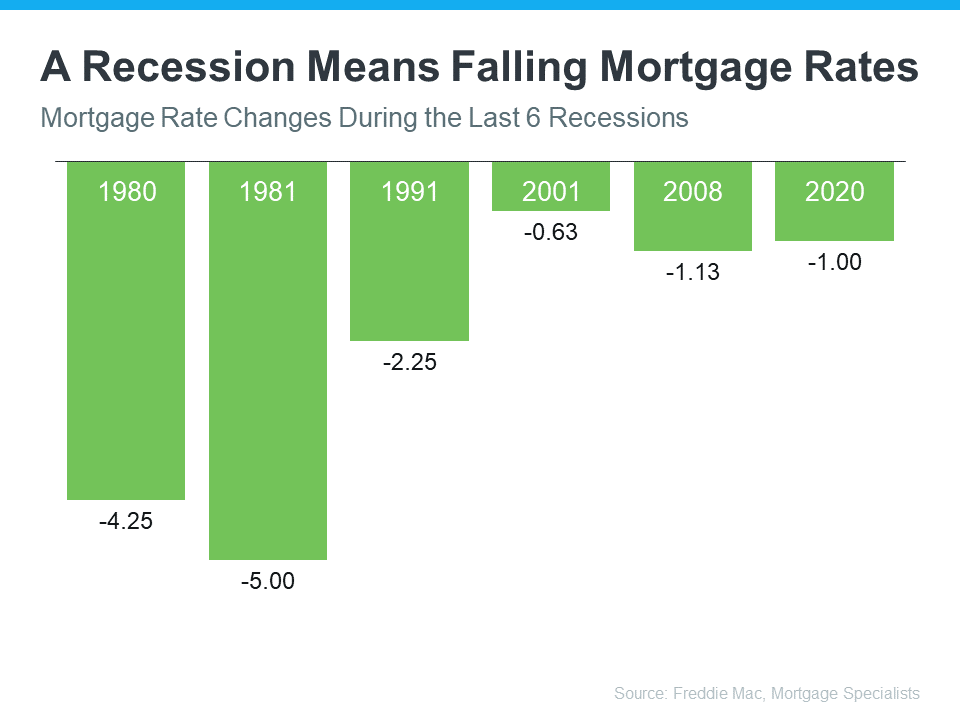 Fortune explains mortgage rates typically fall during an economic slowdown:
"Over the past five recessions, mortgage rates have fallen an average of 1.8 percentage points from the peak seen during the recession to the trough. And in many cases, they continued to fall after the fact as it takes some time to turn things around even when the recession is technically over."
While history doesn't always repeat itself, we can learn from and find comfort in the trends of what's happened in the past. If you're thinking about buying or selling a home, you can make the best decision by working with a trusted mortgage banker.  That way you have expert advice on what a recession could mean for the housing market as well as the best home loan options for you.
History shows you don't need to fear the word recession when it comes to the housing market. If you have questions about what's happening today, let's connect so you have expert advice and insights you can trust. Contact one of our mortgage experts today to learn more about the variety of loan programs we offer and how you can qualify. Your Resource mortgage banker can show you what your monthly payments would be and help you decide which option is right for you.
Resource Financial Services is here to make people's dreams of home ownership a reality. We offer experienced mortgage specialists who work hard to educate homebuyers about the wide variety of loan programs that can be tailored to meet individual financial needs. Homebuyers can expect quicker closings, same-day pre-approval, 5-Day Processing and guaranteed lower rates. Call toll-free at 877.797.4545 to speak with a mortgage banker or visit Resource Financial Services online at rfsmortgage.com to learn more.