If you've been shopping for a home lately, you may have heard the term, "temporary buydown program." What is this and how can it help you afford the home you want in today's market? If you're ready to buy but higher interest rates have you on the fence, the Resource Buydown* program could be a great way for you to lock in a lower rate right now.
What is it?
The Resource Buydown program is a 30-year fixed rate loan that can help lower your interest rate right now.
This can give you a lower rate on your mortgage for up to three years.
After the buydown period is over, the mortgage rate will return to its initial level.
If interest rates drop, homebuyers with a Resource home loan can refinance and pay no lender fees, as part of our R3 refinance guarantee**.
Here's how it works:
You decide how many years you want a lower mortgage rate (1, 2 or 3). This will be your buydown period.
A portion of the prepaid interest is paid at closing.
This lowers your mortgage rate by up to 3%.
The mortgage rate will rise by 1% each year during the buydown period.
After the buydown period is over the mortgage will return to its original level and continue as a fixed rate.
The Resource Buydown offers a 3-2-1 buydown, a 2-1 buydown and a 1-1 buydown.
Here's an example:
Based on a $360,000 loan amount. $400,000 sales price with a 10% down payment on a conventional loan.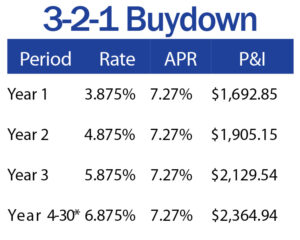 Who pays for the buydown?
The Resource Buydown is paid for by the seller.
The seller covers the difference between what the buyer's monthly payment typically would be and the reduced rate.
An escrow account will be established using contributions from the seller to pay for the payment shortfall.
Why is this good for homebuyers?
Homebuyers receive a below market payment through the early years of the loan.
This doesn't affect your 30-year interest rate.
The Resource Buydown delivers the security of a fixed interest rate through the life of the loan.
Don't let rising interest rates keep you from buying your dream home. Contact one of our mortgage experts today to learn more about the Resource Buydown program and how you can qualify. Your Resource mortgage banker can show you what your monthly payments would be and help you decide which option is right for you.
Resource Financial Services is here to make people's dreams of home ownership a reality. We offer experienced mortgage specialists who work hard to educate homebuyers about the wide variety of loan programs that can be tailored to meet individual financial needs. Homebuyers can expect quicker closings, same-day pre-approval, 5-Day Processing and guaranteed lower rates. Call toll-free at 877.797.4545 to speak with a mortgage banker or visit Resource Financial Services online at rfsmortgage.com to learn more.
*Payment examples do not include taxes, insurance and /or mortgage insurance, if applicable. Payment obligation will be higher. Rates subject to change. The buydown must be reflected in the sales contract's additional terms stating seller will pay the cost. A Buydown Agreement must be signed by the borrower, seller and lender. The subsidized payment is part of an escrow account.
** The Guarantee applies to the refinancing of an outstanding loan originated by Resource Financial Services, Inc. that is secured by the same property upon which that borrower previously received from Resource Financial Services, Inc. a mortgage loan. Terms and conditions are subject to change without notice or cancellation at any time at the sole discretion of Resource Financial Services, Inc.